Wedding is the most memorable moment of a couple's life and if you have been invited to the wedding, you definitely want to make sure, you look your best. Choosing the right attire to a wedding dress is not easy. The right outfit varies based on the season, wedding venues and the time of day. The wedding invitation usually gives you a good idea on what you should wear.
White Tie Wedding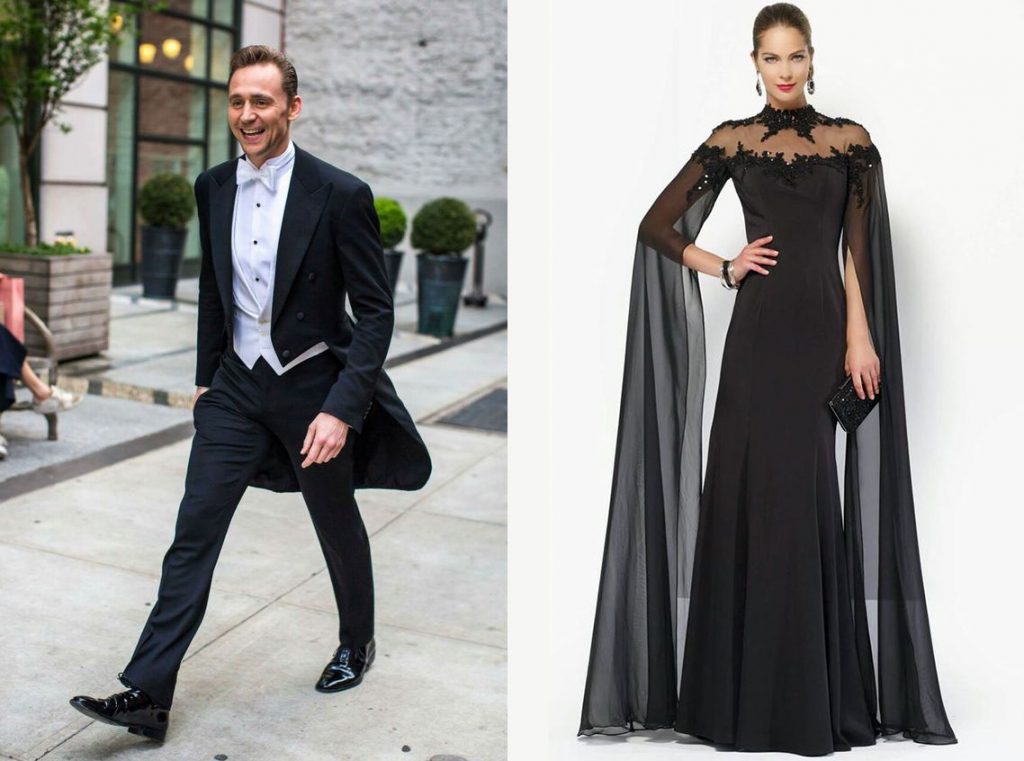 White tie wedding is the most formal wedding dress code which usually worn in an evening wedding. Although white tie occasion is not a common dress code, it is important to remember that the dress code on this type of wedding is strict. Men are required to wear a tuxedo with the tailcoat, white vest, white shirt, a white bow tie along with formal dress shoes while women should wear something glamourous. Women should opt for an elegant floor-length gown worn with best jewelry along with a pair of high-heels shoes.
Black Tie Wedding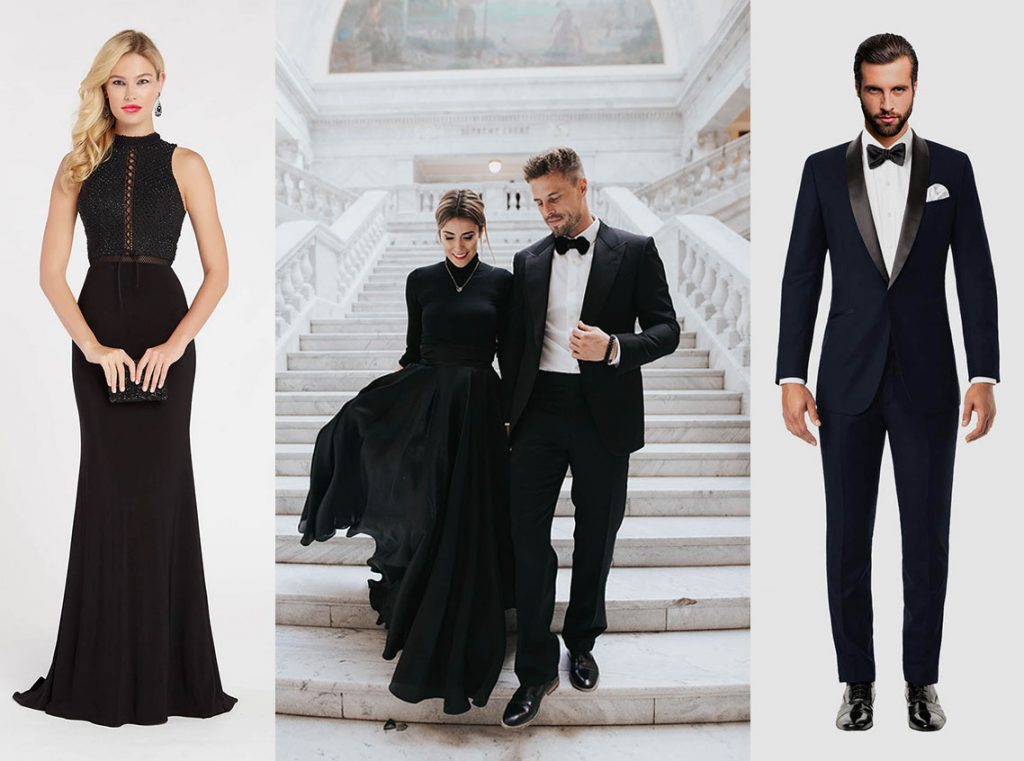 A black-tie wedding is the next most formal dress code and just like the white- tie wedding, black tie wedding usually held in the evening. An appropriate attire for men includes a black tuxedo with tuxedo pants and tuxedo shirt, bow tie, and dress shoes such as oxfords or derby. Women should wear a floor-length gown or a dressy cocktail dress with heels or elegant flats.
Cocktail Wedding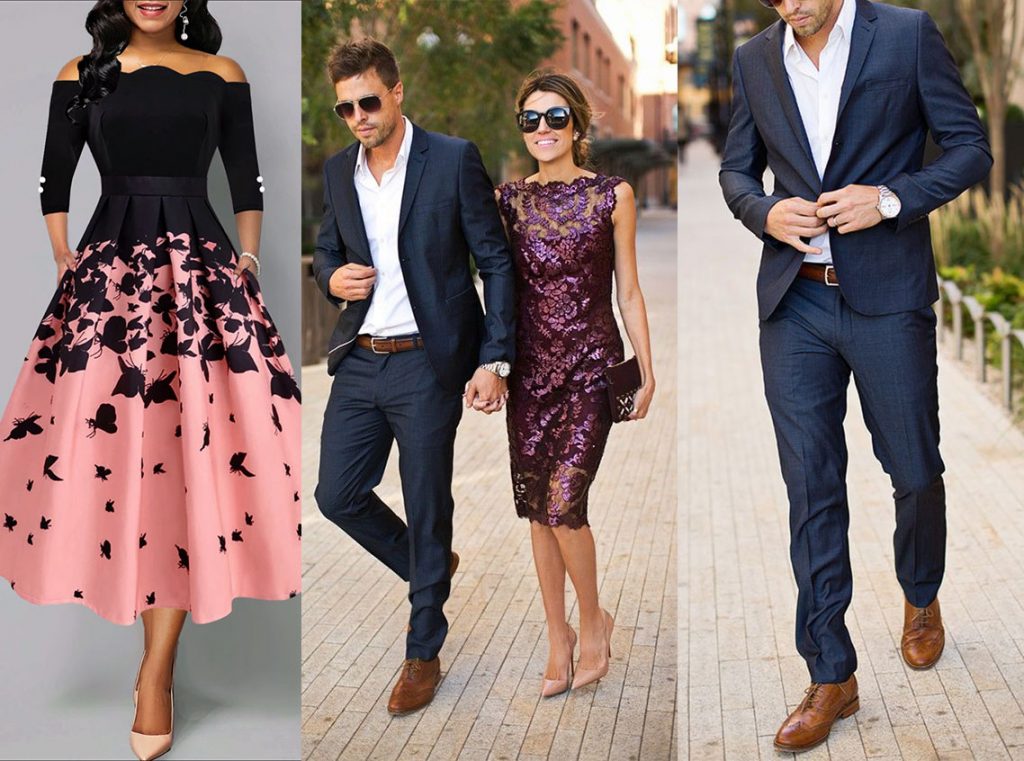 A cocktail wedding will provide you a little freedom on your attire. On cocktail wedding, you are expected to look classy and chic. The color and the fabric type of your attire will depend on the time of day the wedding will be. If you are invited to an evening cocktail wedding, choose something with darker colors such as navy whereas on the daytime wedding, you can wear lighter fabric with lighter color attire.
For men, suits and blazer are popular and acceptable. Tie is optional and you can get creative with accessories like lapel pin or pocket square. For women, you do not need to wear a long evening dress instead, opt for a mid-calf dress with heels is the best attire for this wedding.
Casual Wedding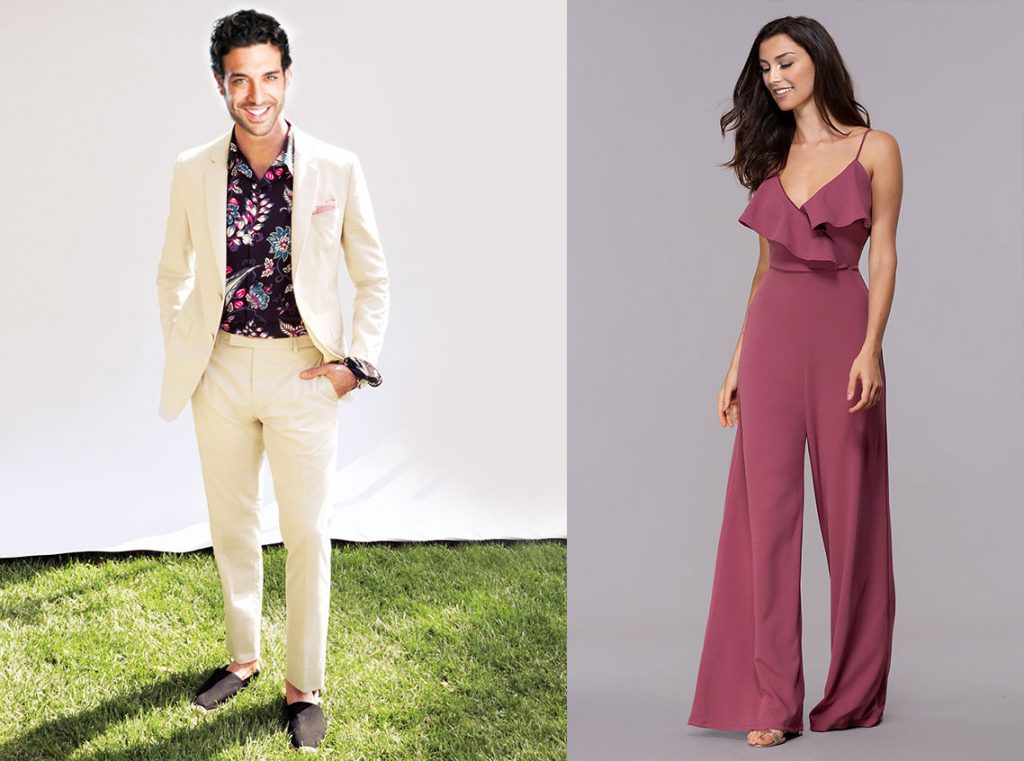 Casual weddings are usually weddings that are held in a more relax place such as beach, garden or even the forest. Just as the title indicates, on casual weddings, you will more likely to wear something more laid-back. You need to keep in mind that when planning your attire for this kind of wedding, you should wear something that is weather appropriate. If you are invited in a tropical area, you should wear something light, breathable fabrics. On the other hand, if the wedding is held on a mountain where it is usually cooler, make sure you wear layers which will keep you warm. In general, you can be creative on your attire, but jeans and t-shirt are still not acceptable for wedding. Instead, men can wear a more colorful collared shirt and pair it with dress pants or chinos. Accessories can be added to give more character to your look. Women can wear a light-weight dress or a jumpsuit with wedges or dressy sandals and if you are attending a beach wedding, you can add a fashionable sun hat.
Final Words
With couples getting more and more creative these days, anything is possible. Their ideas may be too vague to figure out. The best way to clear the confusion is to ask for clarification from the couple. However, remember that same rules still apply in all wedding; you want to look stylish, comfortable but not drawing too much attention away from the couple.
Interesting Read: Matching different patterns
Follow us on Facebook and Instagram for more inspiration and ideas
This may also interest you: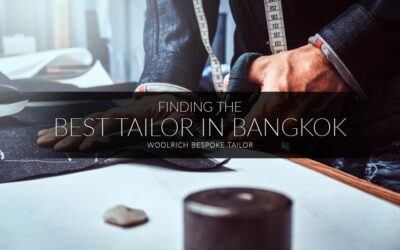 Finding the Best Tailor in Bangkok Thailand is renown for its warm hospitality, affordable prices, and vibrant culture. Hence, it comes as no...
read more