Why Owning These 3 Must Have Suits is Essential for Every Man?
For men, owning a suit is essential. Not only does it gives you an air of sophistication and class but it also provides confidence, making you stand out from the crowd. Suit can be tailored-made to fit perfectly. A well-fitted suit looks smart on anyone and the best thing about it is that it can be mixed and matched with other items in your closet to create different looks. They can be dressed up or down depending on the occasion. They are perfect job interviews, formal events, and even just to add some extra style to your day-to-day wardrobe.
Suits are timeless, classic pieces that remain fashionable no matter the season or trend, so owning one is always beneficial. Therefore, investing in a quality suit is worth it in the long run, as it can last for years if taken care of properly. With so many advantages to owning one, there's no reason why everyone shouldn't have one or two in their closet. BUT we think that every man must have these 3 staple suits. Here are the 3 must have suits in every man's wardrobe:
The Single-Breasted Navy Blue Suit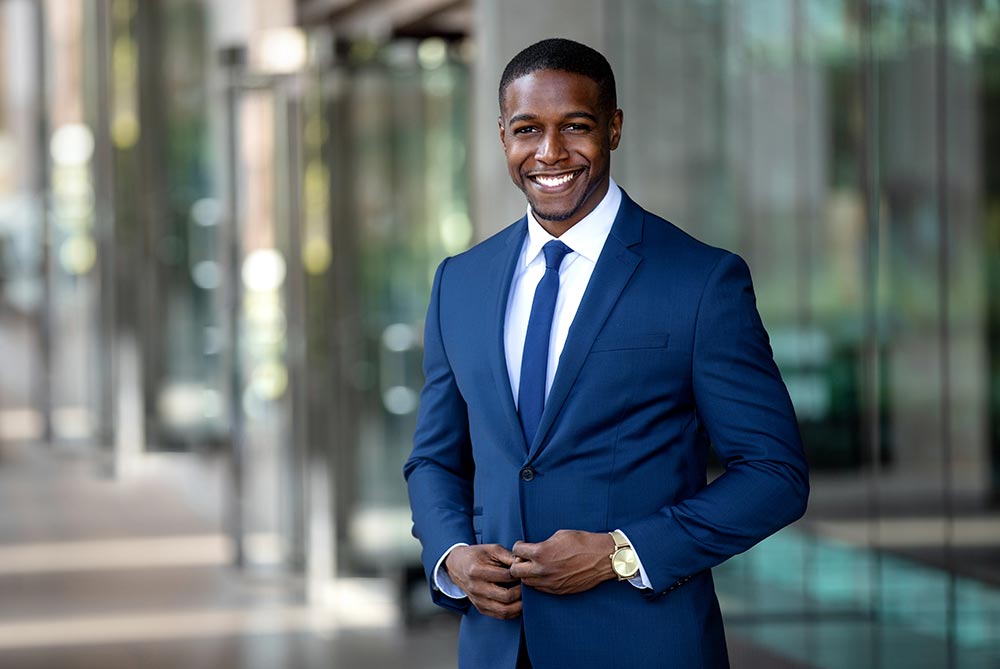 This suit is an incredibly versatile piece of clothing, making it the perfect choice for anyone's first suit. What ever the occasion is, navy suit is virtually perfect for it, from the office to a night on the town to a wedding party. The navy color is a great choice because it can be accessorized with almost any other color, making it easy to create a variety of looks. The cut of this suit is also very flattering, as it can highlight the wearer's best features while still having a classic feel. This suit is also very easy to dress down. Instead dress shirt and tie, you can simple t-shirt and instead of dress shoes, you can exchange them with loafers.
The color is truly sophisticated and understated, making it easy to dress up with colorful accessories. You can also add texture and pattern with different fabrics to make it uniquely you. Furthermore, the navy blue color is ideal for business. It helps convey professionalism and confidence. If you want to make a good impression at your next job interview, or closing a deal with an important client, this suit has got you covered. With its versatility, you'll be able to wear your blue suit a multitude of times without ever looking outdated.
The Classic Black Suit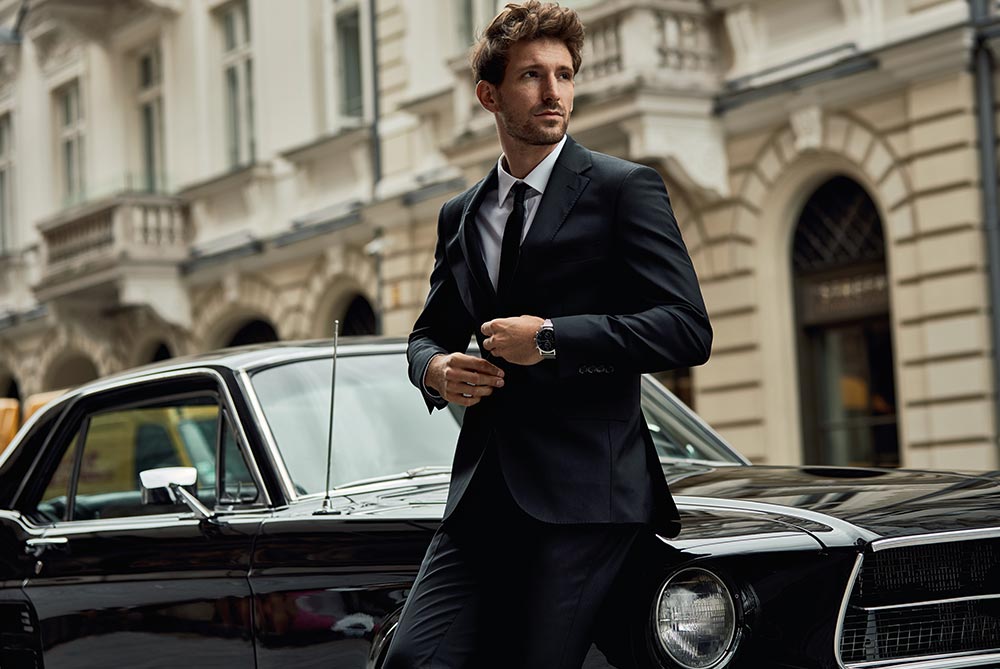 This suit is such a timeless piece of fashion that will never go out of style. No wardrobe is complete without a classic black suit. Although it is not as versatile as navy suit, it is still the perfect choice for any formal occasion. Black suit is considered the most professional, and handsome of all suits and can be worn both to work and on special occasions.
Even though it is a formal suit, there are ways on how to make it less formal. You should stick with the single-breasted suit but be sure to choose lighter fabric. A medium weight wool would do the job. You can also choose textured suit to soften the look. When attending a smart casual event or other less formal occasions, you can exchange your button up shirt for a plain or patterned, neutral colored t-shirt or sweater depending on the season. With the current workplace trend,
Another suit that is also good to have is the tuxedo suit. Tuxedo suit is typically worn for a black tie event or other special event. It usually comes with a satin lapel and lining. It is paired with a white shirt, and should be tailored to fit your body perfectly. To give it personality, you can accessorize it with different ties and pocket squares.
The truth is, the black suit will never go out of style. A well-made suit will not only last for a long time, but it will also make you look sharp and polished.
The Sophisticated Grey Suit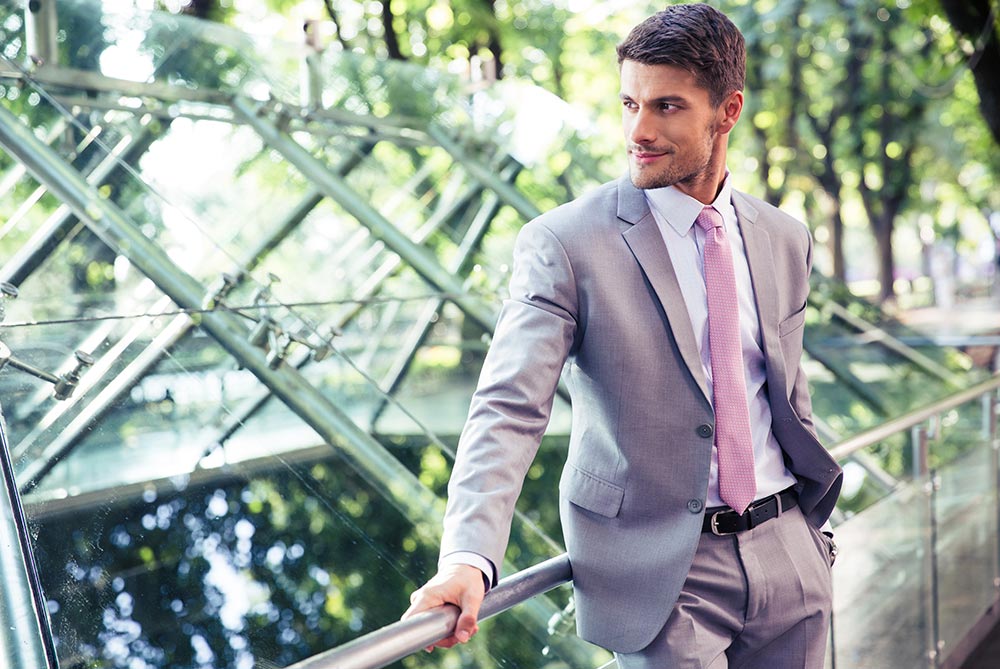 The last suit we think you would need on your wardrobe is a warm, sophisticated grey suit. The grey color has always seen as a warm color that gives its wearer a distinguished impression making it an essential part of every man's wardrobe. It is smart and definitely appropriate for the office or other business related events. Many men usually opt for a light grey suits for summer when days are bright and this color give a more subtle look than the charcoal counterpart. However, most men, arguably, will choose the charcoal grey version as they are more of the traditional choice for a business but this shade is perfect for myriad of occasions.
Whichever shade you choose, the grey suit has become something of an icon in menswear, offering classic style with a contemporary twist. Whether you're looking for something understated or making an impact at an important meeting, the grey suit is sure to give you that polished finish. With its timeless appeal and endless styling possibilities, it's easy to understand why the grey suit has been such a popular choice for so many years. That's a wrap on 3 must have suits in every man's wardrobe. Do you own all 3 of them in your wardrobe?
Best Tailor in Silom, Bangkok
Looking to tailor suits in Bangkok? Woolrich Bespoke Tailor has been tailoring suits for men and women for 18 years and our clients recommend us as one of Bangkok's best tailor. What was started by 2 gentlemen has now grown into a team of fashion enthusiasts serving clients from across the globe. We create perfectly tailored suits, cut and crafted with high-quality tailoring, to ensure your new suit will fit your unique body type. By taking your measurements from head to toe for your suits fit like a glove on you. We guarantee our craftsmanship are second to none compared to other Bangkok tailors. Visit us today or reach out to us to get your custom suits online – as we provide doorstep delivery worldwide!
Follow us on Facebook and Instagram for more inspiration and ideas!
Next topic: Custom Suits: Is it worth getting a custom tailored suit?