A blazer is a classic and timeless piece of clothing that can be worn for many different events. It's a great transitional piece that can take you from day to night, or from an office setting to a casual event. Blazers are versatile. They look great when paired with other pieces like suit trousers or jeans. They come in a variety of styles, fabrics and colors that can suit any wardrobe.
A custom-tailored blazer gives you the perfect fit and can be personalized to your exact specifications. Design-wise, these blazers are more sophisticated than their store-bought counterparts and they allow you to express your personal style in a professional way. On top of that, they are made to your exact measurement, so you would not need to worry about the hassle of alterations. In terms of fabric quality, custom blazers are usually made with premium quality materials such as wool or cashmere, ensuring that they last longer and look great over time.
When deciding when to wear them, it's important to consider the occasion and dress code. Blazers are perfect for more formal occasions such as job interviews, business meetings, special functions or dinner parties. They are also appropriate for semi-formal events such as parties, lunches or even casual days at work. Whatever your occasion is, blazers are an excellent addition to your wardrobe collection.
Blazer VS Suit Jacket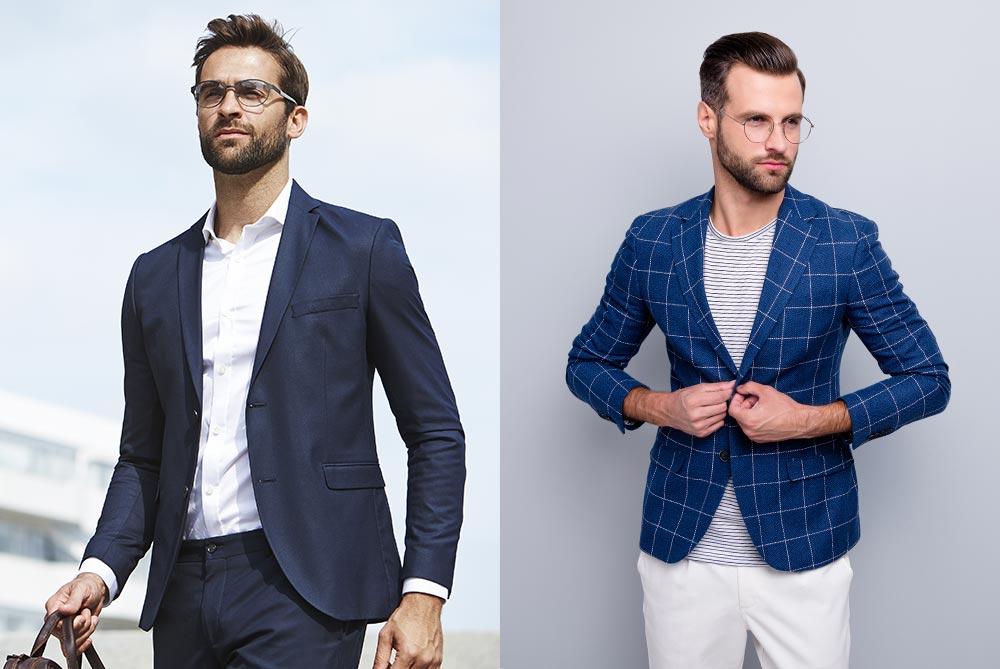 In many ways, a blazer is different from a suit jacket. If we are looking at how they are made, we can find that the most obvious difference between the two is that a blazer is typically less formal. The materials are lighter, and the buttons are usually ornamental. Additionally, they may be patterned or brightly colored whereas suits tend to be more subdued in style and color. They also often feature patch pockets on the outside. As for the price, tailored blazers tend to be more affordable in comparison to suit.
Different Types of Blazer
Single-breasted Blazer:
A single-breasted blazer is a classic wardrobe staple that can be dressed up or down for any occasion. It typically has one row of buttons and a notched lapel, which creates a slimming effect. The length should be just above the hip, and it should fit closely to the body without being too tight. Single-breasted blazers are usually made from wool or cotton and can be found in a variety of colors and patterns. They go great with slacks or khakis for a more conservative look, but they can also be paired with jeans for a more casual ensemble.
Double-breasted Blazer:
The double-breasted blazer has a structured silhouette and features two rows of buttons, which can be either fastened or left open. The peak lapels are wide and the collar stands up straight, making the wearer look professional and polished. The fabric used to make this blazer is usually wool, tweed, velvet or even cotton, depending on the season and desired look. It's versatile and can easily transition from day to night looks making it an ideal option for those who want to look polished on any occasion.
Customizing Your Blazer
Lapels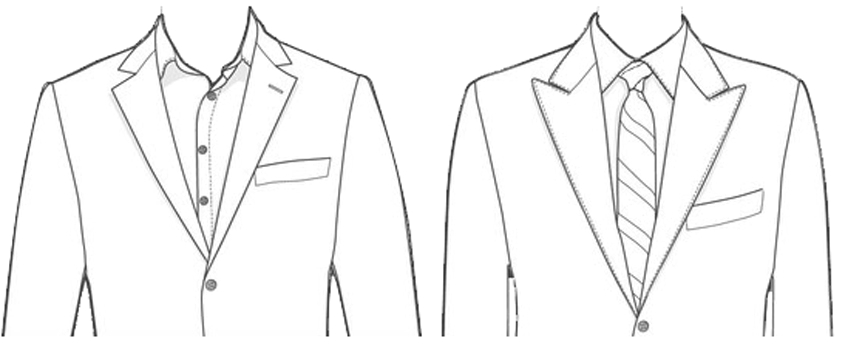 Peak lapel: Considered to be the traditional style for blazers, it's one that has never really gone out of fashion. It features two points at the collar, which point up towards the wearer's shoulders. This style is particularly flattering on men as it adds shape and structure to the garment. It also helps give the impression of broadening the shoulders, giving an overall more masculine silhouette.
Notched lapel: They are a popular choice for blazers, and it's easy to see why. Notched lapels are typically wider than peak lapels, creating an elegant and sophisticated look that is perfect for formal occasions. The notches also add structure to the collar of the blazer, giving it a tailored appearance. They also tend to be more versatile than peak lapels, as they can be dressed up or down.
Pockets
Customizing pockets on a blazer is an easy way to add a unique touch to your look. There are three common types of pockets you can choose from: flap pocket, patch pocket and jetted pocket.
Flap pocket is a single piece of fabric that is sewn onto the outside of the blazer and folded over with a clasp. These pockets are versatile and perfect for both business and casual look.
Patch pockets are made out of two pieces of material and have open tops, so items can easily be taken in and out. These pockets are more common in a blazer than in a suit as it gives a more relaxed feel.
Jetted pockets or besom pockets are slightly deeper than the other types of pockets. They feature an additional seam down the center for added security. This pocket style is suitable for formal function because they create a sleek silhouette.
Buttons and buttonholes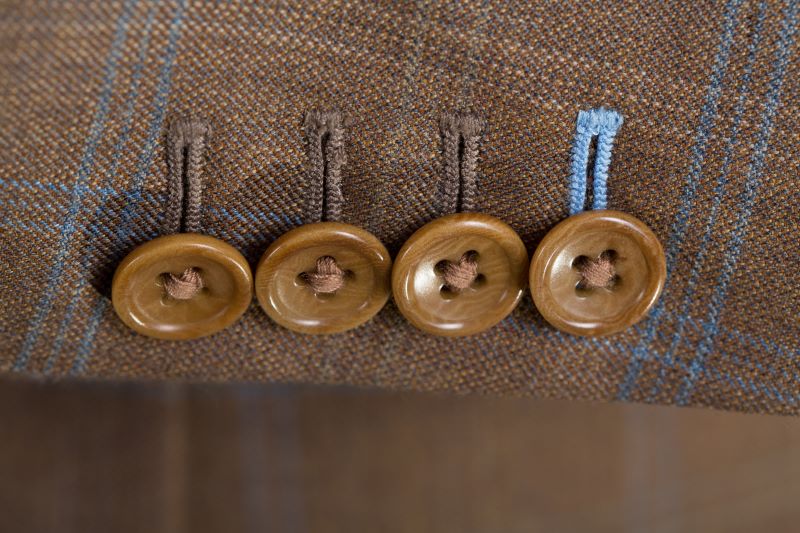 Customizing buttons and buttonholes for your blazer is a great way to make any outfit look more polished. To ensure the highest quality finish, it requires to be done carefully with an extra attention to detail in order to ensure that the finished product looks perfect. These buttonholes can be decorative or functional, as they can be easily adjusted for size or shape if needed.
Back vents
Blazers come with different types of back vents, each having their own unique purpose and comfort level.
Single vent has one slit in the back that runs along the center of the garment. Popularity wise, single-vented blazers are the most common type. This is because they are less restrictive and you can sit and move comfortably.
Double vent has two slits located at either side of the garment. Double vents are also becoming very popular due to their ability to add more comfort to a wearer's experience.
No vent does not have any openings in the back. This is the classiest look of all but having no slits means more constrictive and uncomfortable. Ultimately, all three types of back vents serve a functional purpose and it is up to each individual to determine which best fits their needs and style.
Conclusion
A customized blazer is the perfect way to take your look to the next level. Not only are they a trendy choice, but you can be sure that it is perfectly designed to fit you and highlight your personal style. When ordering your first custom-made blazer, be sure to have the tailor take your measurements properly so that the garment will fit you perfectly. By designing your own custom blazer, you are guaranteed to have something that would fit well and would boost your confidence in all circumstances.
Follow us on Facebook and Instagram for more inspiration and ideas!
Next topic: Custom Suits: Is it worth getting a custom tailored suit?